Tour the Database
A subscription to the Component Database gives you access to:
Access Exclusive Component Datasheets
A subscription to the component database gives you access to exclusive datasheets compiled by Andrea Butje and Robert Tisserand. Each datasheet includes a molecular structure illustration, chemical family, therapeutic properties, medical actions, safety concerns, notes and detailed references.
Custom Component Search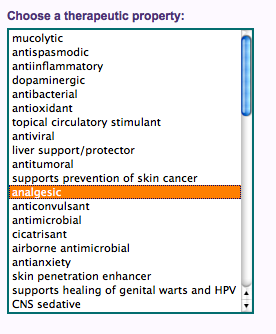 Search the essential oil components.
Search by chemical family or specific health concern (therapeutic property).
Select multiple therapeutic properties and/or chemical families to create your own custom search.
Search results turn up organized lists of components.
Click on each component to view the component datasheet.
Search the Following Components
Anethole (E)
Benzyl acetate
Benzyl benzoate
Bisabolol (α)
Bisabolol oxides (α)
Borneol
Bornyl acetate
Cadinene
Camphene
Camphor
Carene (δ-3)
Carotol
Carvacrol
Carvone
Caryophyllene (α)
Caryophyllene (β)
Cedrene
Cedrol
Chamazulene
Cineole
Cinnamaldehyde
Citral (geranial and neral)
Citronellal
Citronellol
Curcumene (α)
Cymene (para)
Elemicin
Estragole
Eudesmol (β)
Eugenol
Farnesol
Fenchone
Geraniol
Geranyl acetate

Himachalene (β)
Limonene (d)
Limonene (l)
Linalol (linalool)
Linalol oxide
Linalyl acetate
Menthol
Menthone
Methyl cinnamate
Myrcene (β)
Myristicin
Nerol
Nerolidol
Ocimene (β)
Patchoulol
Phellandrene (α)
Phellandrene (β)
Phenylethyl alcohol
Pinene (α)
Pinene (β)
Rose oxide
Sabinene
Santalols
Sclareol
Sesquiphellandrene (β)
Terpinen-4-ol
Terpinene (γ)
Terpineol (α)
Terpinolene
Thymol
Turmerones
Verbenone
Zingiberene